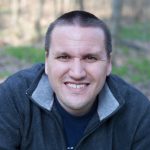 Hi, my name is Mike. I'm a photographer living in central Michigan. I started taking photos back in 2001 while living in Arizona (where I enjoyed photographing the night sky and thunderstorms during monsoon season).
People started commenting about how much they liked my photos, and I started winning a few photo contests. So in 2014 I began working as a professional photographer in my spare time. My primary career of working as a independent developer making iPhone and Mac apps gives me a flexible schedule to work on photography jobs as they come up.
I enjoy taking photos here in Michigan, as well as anywhere I'm fortunate enough to travel. I especially appreciate getting a chance to photograph different cultures and architecture. Â Otherwise, I like to photograph all things in nature, and here in Michigan you don't have to look hard to find beautiful natural scenes. My work has been featured in a couple of art galleries as well as displayed in various community locations and businesses.
I make myself available for freelance work and event photography here in Mt. Pleasant and around central Michigan.  If you need an event covered, or if you are a wedding photographer looking for a second-shooter, feel free to contact me at mike@radiant.photography.